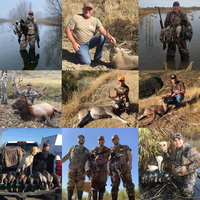 A passion that won't end with a season.
For us, hunting is more than just a season, it's a way of life. If we can share some of our passion for the great outdoors, and inspire you to go out and create memories that are shared around a campfire, a dinner table, or between good friends or a grandfather and grandson, than we've been successful.  
Shop Apparel
Comfort, quality and a commitment.
Just as hunters meticulously check their gear to ensure they are prepared for the hunt ahead, the materials that go into our apparel is hand selected by our discerning team to ensure a level of quality we are proud to offer you, and that you'll be proud to wear. From the fabric of the shirts, the leather on the hats, and the stitching in the embroidery, we scrutinize every detail, that's our commitment to you.
Shop All